Abbey Clancy and Peter Crouch, Helen Flanagan and Scott Sinclair, Binky Felstead, and Danny and Georgia Jones were all in attendance to help Mickey Mouse celebrate his 90th Anniversary.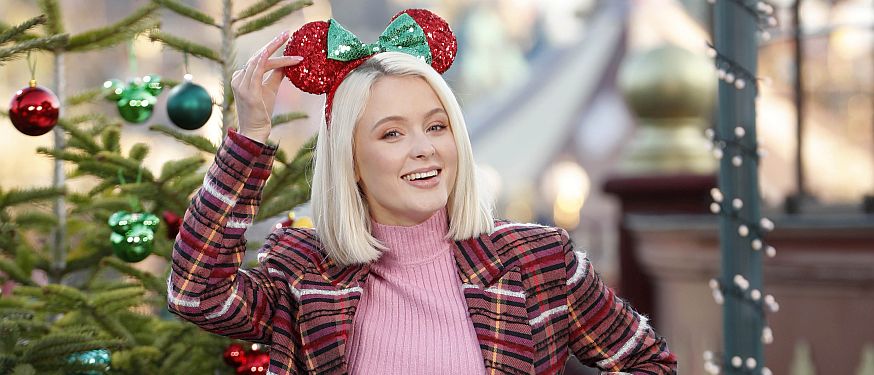 The stars experienced the incredible line-up of festive activities that are taking place at the park from now through to 06 January 2019.
Attractions include: the Disney Christmas Parade which can now be seen twice-daily, Magic Christmas Encounters – Guests will get the chance to meet Marie from the Aristocats, Scrooge McDuck, Peter Pan and Miss Bunny, to name but a few,  Mickey's Magical Christmas Light – There's nothing quite like the moment the Christmas tree lights are switched on at Disneyland Park. And it's not just any old tree – this one is 24 metres tall and will be switched on by magic at an event attended by Mickey, Minnie and Santa himself!
A Merry Stitchmas – Stitch has taken over the Royal Castle Stage and he's going to do all he can to make sure you have lots of fun with Mickey and Minnie, Donald, Daisy and Goofy, with some of our greatest Christmas classics for a backdrop. Mickey's PhilharMagic – A completely new attraction available in Europe for the first time ever. Get ready for a new 4D experience at Discoveryland Theatre. You'll be able to see Mickey Mouse and Donald Duck on the big screen and they'll take you right to the heart of some of the great Disney classics.  Christmas Songtime –  For those who like Christmas songs, a visit to the Videopolis Theatre in Discoveryland is a must-do, to check out new show "Christmas Songtime!". The Enchanted Advent Calendar: 01 – 24 December – Every morning, guests will be able to awaken to the magic of Christmas at the foot of Sleeping Beauty Castle with a larger than life advent calendar; discover a new surprise every day, with Mickey, Minnie or Goofy.
Christmas at Walt Disney Studios Park – For the second year running, Walt Disney Studios Park is celebrating Christmas too, with even more fun for all the family! Mickey's Big Band Christmas-Every day this show pays lively homage to winter's loveliest melodies, inviting you to get into the Christmas spirit with the Big Band, singers, dancers and of course Disney Characters. An absolute must-see: Mickey's drum solo! A surprise for Mickey! –  It's time to celebrate 90 years of fun with Mickey Mouse with an interactive show taking place several times a day. Will Minnie be ready on time or will she have to ask her friends – or even the audience – to help her give Mickey an unforgettable surprise? Goofy's Incredible Christmas – Bring your day at Disneyland Paris to an amazing close with Goofy's Incredible Christmas. This immersive night-time show uses mapping technology and breath-taking special effects on the walls of a fan-favourite attraction – The Twilight Zone Tower of Terror™. Mickey and Minnie Mouse, along with their friends Goofy, Donald Duck and Daisy, will be at your side throughout this fantastical journey.
Model and television personality Abbey and footballer husband Peter enjoyed the weekend with their three children Sophia Ruby, Liberty Rose and Johnny. 
"It's been absolutely lovely. The kids have loved it and it's just been a really magical weekend. A fantastic time." – Abbey Crouch
Chelsea favourite Binky Felstead brought along her daughter India and enjoyed meeting characters such as Minnie Mouse and Daisy Duck.
"I'm just in the best mood ever. I think it's incredible, they've done it so well and all the characters are dressed up, all the dancers, all Christmas music playing the whole time, it's been amazing. Really, really gets you in the [Christmas] spirit." – Binky Felstead
Corrie star Helen and Celtic football player Scott, who got engaged together at Disneyland Paris six months ago, said that it brought back nice memories to be back in the park.
"I remember when I was last here I was 9 months pregnant, I literally could hardly walk around the park and my feet were literally massive. So at least now this time I feel, at least I can walk around the park and I don't feel so big. But for us, it is really nice memories." – Helen Flanagan
Model Georgia and Danny Jones of McFly experienced snow for the first time this year on Main Street, U.S.A. and commented that it got them into the festive mood.
Danny said: "It's amazing. Do you know what, it's got us in the spirit. We were walking down to the castle this morning and they were playing some Christmas songs and it was very special. And it's very Christmassy, got us right in the mood." Georgia added: "It did! It's so festive and it's just made us really excited for Christmas."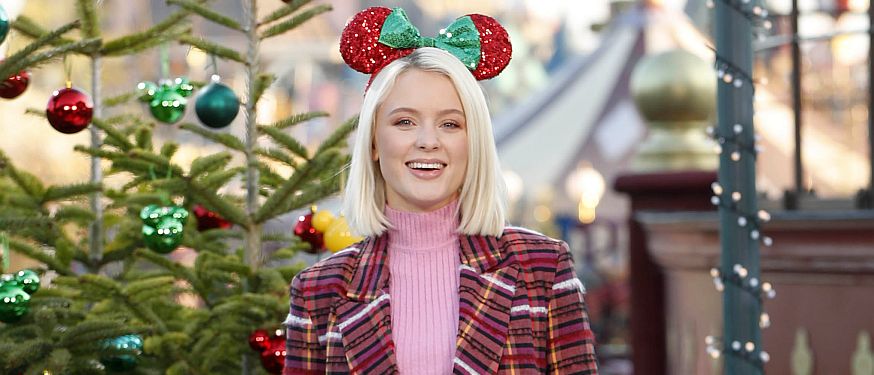 Rounding off a memorable weekend, Swedish singer-songwriter Zara Larsson gave Mickey Mouse the treat of his life performing a pitch-perfect version of 'Happy Birthday' to him. The Lush Life hit maker who is currently riding high in the Official UK Singles Chart with Ruin My Life, described the experience of singing to Mickey as "fantastic".
"I am so excited to be here at Disneyland Paris, because I've never been and I think this place in itself is magical. And to be a part of Mickey's 90th birthday feels fantastic. Like many kids growing up, even my parents or probably even my Grandma, he's been a part of my childhood so now I can be part of his special night and that feels great." – Zara Larsson
Enjoy a Mickey Mouse Christmas and join him to celebrate his amazing 90th anniversary, from now until to 06 January 2019.