Alzheimer's Society's Cupcake Day is back on Thursday 13 June.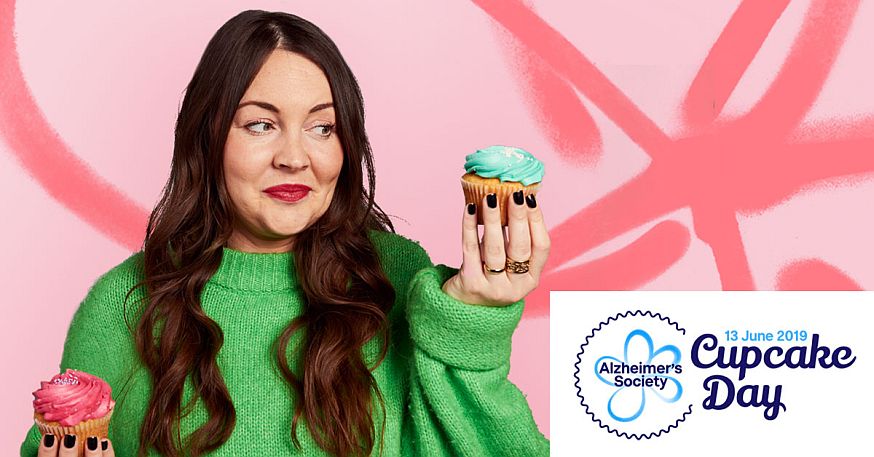 Actress and Alzheimer's Society supporter, Lacey Turner, is urging everyone to unite against dementia with their families, friends and colleagues, by baking or buying cupcakes to raise vital funds.
"After tasting lots of treats last year, I'm so happy to be taking part in Alzheimer's Society's Cupcake Day again," said Lacey. Cupcake Day is not just for the pros, I didn't do any baking last year- I can only make toast! You can bake, bring or buy, but what's important is that we all unite together to help beat dementia. Every three minutes someone in the UK develops dementia but each cupcake sold will help get us a step closer to finding a cure. That's why I'm calling on all the bakers and fakers to join me; it's time to get to work! You can sign up for a free fundraising kit at cupcakeday.org.uk." – Lacey Turner
With 850,000 people in the UK having dementia, we owe better knowledge of the condition to those affected, so that they can live better. It is only through research that we can understand what causes dementia, develop effective treatments, improve care and one day find a cure.
There hasn't been a new drug for dementia in 15 years but since 2013, the number of clinical trials for Alzheimer's drugs has doubled, and Alzheimer's Society is investing in, and accelerating, dementia research, having committed to spending at least £150m in the next decade.
"We're all delighted that Lacey is supporting us for Cupcake Day. It's great to see how attending a Cupcake Day event last year has inspired Lacey to get more involved in the fun this year. Dementia is now the UK's biggest killer. Each cupcake will help us find a cure, improve care and offer help and understanding for people affected. Events such as Cupcake Day make it easy for everyone to get involved, and raise awareness of the important work we do to support people with dementia." – Jeremy Hughes, Alzheimer's Society's Chief Executive Officer
Last year more than 30,000 baking pros, impatient icers, first-timers and late night whiskers united together in defiance of dementia for Cupacake Day, raising an impressive £1.4 million. This June, Alzheimer's Society is encouraging everyone to bake, bring or buy, to raise more than ever before to help beat dementia.
In just the average time it takes to bake a batch, six people will develop dementia in the UK. Whether you plan to host your own event on 13 June or at another time during the month, visit cupcakeday.org.uk to sign up today.
Some of Lacey's EastEnders co-stars including Jake Wood and Natalie Cassidy will be running the London marathon later this month for Dame Barbara Windsor who was diagnosed with Alzheimer's in 2014. 
Lacey is best known for her role as Stacey Slater in the BBC soap which she has played on and off, mostly on since 2004. Her other credits include Our Girl, Bedlam and Switch. The actress announced that she was expecting her first child with husband Matt Kaye earlier this year.