The indomitable June Brown is best known to UK TV audiences for playing the iconic Dot Cotton in EastEnders. Here Michael Keohan celebrates the lady behind the characters.
Such a remarkable actress is Brown that her acting in the BBC One soap has earned her a nomination at last year's BAFTA Television Awards on Sunday. Here we take a look back at her life and a remarkable career that spans almost five decades.
June Muriel Brown was born in Suffolk in 1927, she was the elder of 5 children, however, two of her siblings tragically lost their lives at early ages to illness. During WW2, June was evacuated to Wales and later served in the Wrens during the war.
At 17, she married actor John Garley but he suffered from depression and took his own life in the late 50s. Brown remarried a year later in 1958 to Robert Arnold who was known for his role in the BBC show Dixon Of Dock Green. The pair had six children but their second daughter was premature and died after only 16 days.
Brown remained married to Arnold for several decades until his death in 2003. Since then she has lived alone.
Brown is a classically trained actress and trained at the Old Vic Theatre School in London. Although early TV appearances can be traced back as early as the 1960s, her best-remembered material dates from the 70s when she had a small role in ITV soap Coronation Street as Mrs Parsons and played Lady Eleanor in the Doctor Who serial "The Time Warrior." Throughout the seventies and eighties, Brown also starred in medical soap Angels, history-of-Britain Churchill's People, long-running comedy-drama Minder, police soap The Bill, and cult sci-fi series Survivors.
She also had a big part in the popular costume drama The Duchess Of Duke Street in 1976. Other roles include Mrs Mann in Oliver Twist in 1985, a part in the big band comedy Ain't Misbehavin' in 1997 and Nancy Slagg in the BBC's big-budget production of Gormenghast in 2000. In 2003 she appeared alongside Penelope Keith in Margery and Gladys and, in 2006, she appeared as Aunt Spiker at the Children's Party At The Palace to celebrate the Queen's 80th birthday.
Aside from her television career, June has also appeared in several famous movies including Brit horror flick Psychomania, Sunday Bloody Sunday, Straw Dogs and Murder by Decree. In the 1980s she appeared in the film Nijinsky and in the 1990s June also appeared in films The Mambo Kings and the much loved Mr Bean spin-off movie Bean.
And it's not just her screenwork Brown is known for, she has directed plays including Pin Money in London and Double D in London and Edinburgh.
June has also taken on theatre acting roles and starred as Mrs Danvers in the production of Rebecca. Other plays Brown has appeared in include An Inspector Calls, The Lion in Winter, A View from the Bridge, and numerous pantomimes including The Witches, in which she played alongside her sister. During her early career, she took on the roles of Hedda Gabler and Lady Macbeth.
Brown's long-running acting career is so extensive that it's difficult to produce a summary of her complete screen work but in addition to the above the actress has had several roles in Play For Today productions and roles in The Sweeney, Now and Then, Gentle To Nora, Z-Cars, Dixon of Dock Green and Crown Court. She also played Mrs Dilber in A Christmas Carol.
Despite having such a long and varied career, the actress is best known for one role in particular – that of the long-suffering Dot Cotton in EastEnders.
Although the character of Dot was not a part of the show's original cast, she came into the show only a few months after it began – July 1985 – and therefore many fans consider her to be one of the original EastEnders.
June was initially asked to appear in the fledgling soap opera for just a small handful of episodes but bosses were so impressed with her performances as the chain-smoking hypochondriac Dot that they asked her to stay on. In 2008, Brown revealed on ITV's magazine programme This Morning that she was pleased to be asked to stay on as she was in debt at the time.
June starred as Dot Cotton for 8 years between 1985 and 1993 before leaving the saga having become bored with her character. However, she and Dot returned on and off throughout 1997 and 1998. Brown started making more regular appearances in the soap in November 1998 and has remained a part of the cast ever since.
In 2003 June starred in a spin-off from the series about Dot's early childhood entitled Dot's Story. The show was a mixture of the past and present tense and featured flashbacks to Dot's life during the war – a young Dot was played by actress Tallulah Pitt-Brown.
The character of Dot is considered something of an icon due to her distinctive features and phrases. One such phrase is "ooh I say", and one such feature would be the character's gravel voice or a cigarette as Dot is often seen smoking.
In popular culture, Dot has been spoofed in cartoon sketch series 2DTV and the ITV series Spitting Image. She has also been impersonated by Alistair McGowan in his Big Impression Show.
As a style icon, she is said to have inspired catwalk collections, hairstyles, and more besides. Additionally, the character is considered something of a gay icon with the monthly Dot Cotton Club, and a gay nightclub in Cambridge is named in her honour.
She is among only a few characters from EastEnders to become a British cultural emblem and the character of Dot is so synonymous with smoking that the term "Dot Cotton syndrome" is used within the health industry to "describe the elderly population who continue to smoke heavily without registering the health problems that are or will soon suffer from, seeing it as their only pleasure left in life."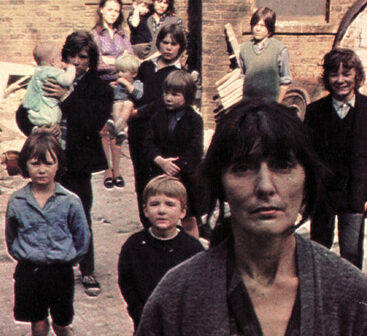 In 2008 Brown was awarded an MBE for her services to drama and charity and in 2009 she received her first-ever BAFTA nomination for her role as EastEnders' Dot following a poignant episode of the serial in which she was the only actress.
This episode was a first for British soap and has made June Brown the first soap star to be nominated for an acting gong at the BAFTAs in 20 years.
Over the years June has brought great pathos to her many roles and has earned her place as one of Britain's Television stalwarts.
This ATV Icon forms part of our EastEnders @ 25 celebratory features.
---
Michael Keohan is a radio presenter and has worked for stations including Lite FM and Capital Radio.
He also from 2008-2009 wrote a monthly personal showbiz column for ATV Today.
ATV Icons celebrate the names past and present who have given a great deal to British Culture. Originally uploaded: 24th April 2009.