These days Hollywood is full of Australian performers with numerous hopefuls making the regular pilgrimage for pilot season. After leaving their roles in Home & Away or Neighbours many of the cast members try their luck in the USA, some have achieved considerable success hoping to emulate the likes of Nicole Kidman, Cate Blanchett and Barry Creyton who continues to enjoy a remarkable career as an actor, writer and director.
This is nothing new of course; in the 1980s both Peter Lochran and Tony Alvarez from The Young Doctors secured plenty of work in American soap operas. Going further back people such as Errol Flynn, Chips Rafferty, Peter Finch and Michael Pate all hit the big time in the USA.
The first Australian to really crack Hollywood was J.P. (John Paterson) McGowan who had some 600 movie credits to his name. He forged a trail-blazing career as an actor, director, writer and producer of both silent movies and talkies.
After surviving the Boer War he made his way home via America where he had been enlisted to take part in the Boer War exhibit at the 1904 World's Fair in St. Louis. J.P. never made it past Hollywood and after an initial start in the theatre he would find plenty of work in movies partly thanks to his skills as a horseman. He made his first film appearance in A Lad from Old Ireland which was partially shot in Ireland and which was the first US movie to be shot overseas. His other big screen acting credits included Dick Tracy Returns, The Great Adventures of Wild Bill Hickok, and Jungle Jim.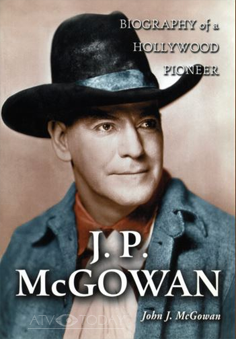 As a director he gave John Wayne an early career break in The Hurricane Express, and had box office hits with the likes of Lawless Valley, Where the West Begins, Tarzan and the Golden Lion featuring Boris Karloff, and Riders of the Rio Grande starring Bob Custer. He remains the only Australian to have been made a life member of the Screen Directors Guild (now known as the Directors Guild of America).
J.P. was often billed as 'the railroad man' due to his love of producing action movies involving the iron horse which ran on steam. In his silent series The Hazards of Helen he would stage spectacular stunts never seen on the silver screen before, the image of his first wife Helen Holmes tied to the railway tracks as a train approached has gone down in cinematic history.
If you'd like to learn more about the life and career of this truly pioneering Australian you should book up for a special event which has been arranged by the Friends of the National Film and Sound Archive of Australia on 24th February. The action takes place at the Arc Theatre in Canberra where film historian David Donaldson will give a lecture on the great man's work before a screening of the 1936 classic Guns & Guitars in which McGowan plays a man who is falsely framed for murder. After clearing his good name, he manages to get himself elected as sheriff and sets out to apprehend the real villain.
You can book your tickets for this event by heading to TryBooking
If you can't get to Canberra then I would highly recommend that you read J.P. McGowan: Biography of a Hollywood Pioneer written by John J. McGowan. The book has been extensively researched and offers the definitive story of a truly ground-breaking Australian; it can be purchased via Amazon.
This book inspired the excellent documentary Stunt Love which beautifully melds archive footage with newly recorded material and interviews with the likes of renowned stuntman Grant Page. Stunt Love is a joy to watch and can be ordered on DVD from Closer Productions.
---
Images: Top A montage of memories: Left: J.P. McGowan in Guns & Guitars and publicity cards centre and right.
Bottom: The cover to J.P. McGowan: Biography of a Hollywood Pioneer which is available from Amazon.