Comedy actress and scriptwriter Caroline Aherne has died at the age of 52, following a battle with lung cancer.
The Royle Family star passed away earlier today (2 July) at her home in Timperley, Greater Manchester, her publicist Neil Reading has confirmed in a statement.
"Caroline Aherne has sadly passed away, after a brave battle with cancer. The Bafta award-winning writer and comedy actor died earlier today at her home in Timperley, Greater Manchester. She was 52. The family ask for privacy at this very sad time." – Publicist Neil Reading
Aherne found fame writing for and starring as various roles in the BBC sketch series The Fast Show from 1994 until 1997. One of the more notable characters played by Aherne was meteorologist Poula Fisch whose skills – as presenter of the weather report on fictional foreign TV station 'Chanel 9' – included slapping sun-shaped stickers onto a map whilst declaring 'Scorchio'.
She had earlier developed perhaps her most famous character – that of Mrs Merton – with Frank Sidebottom for his show during a spell at Piccadilly Radio as a receptionist, and made her television debut as the character in 1990 on Upfront produced by Granada Television.
In 1995, the beeb launched The Mrs Merton Show – a spoof chat format featuring Aherne as the 'naïve' elderly agony aunt who probed celebrity guests with a series of cheeky questions. The series ran for 31 episodes until 1998 and is best remembered for an occasion when the character asked Debbie McGee "So, what first attracted you to the millionaire Paul Daniels?" in reference to her marriage to Paul Daniels.
"Just heard the very sad news about Caroline Ahearne she was wonderful especially as Mrs Merton. My interview will be a treasured memory RIP" – Debbie McGee (@thedebbiemcgee)
The very first edition of 'The Mrs Merton Show' prior to the BBC One series the character had been an occasional 'expert' on ITV's This Morning alongside Richard Madeley and Judy Finnigan.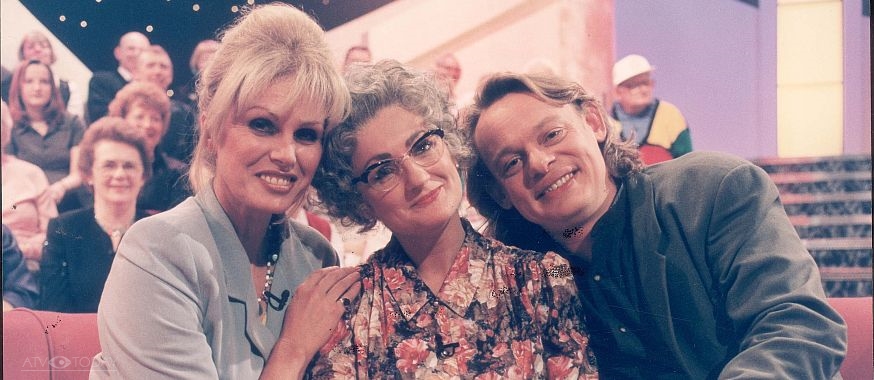 The character of Mrs Merton first appeared on local radio in the North West after comedian C

hris Sievey

(as 'Frank Sidebottom') asked Caroline to perform on his show. She had been working as a secretary at the station prior to the on-air appearances.

The success of the chat show saw a sitcom with Mrs Merton and her son Malcolm air on BBC Two.

At the end of the decade, Caroline and Craig Cash penned and starred in the BAFTA award winning sitcom The Royle Family, with Ricky Tomlinson, Sue Johnston and Ralf Little also a part of the regular cast.
Set in the living room of the titular Royles, comprising patriarch Jim (Tomlinson), his wife Barbara (Johnston), their daughter Denise (Aherne), their son Anthony (Little) and Denise's fiancé (later husband) David (Cash), the episodes take place in real time and largely focus on the family's banal conversation and ribbing of each other whilst assembled around the TV set.
The series also featured a number of recurring guest characters notably family friend 'Twiggy' played by Geoffrey Hughes, Barbara's mum Norma aka 'Nana' played by Liz Smith, and next door neighbours Mary (Doreen Keogh), Joe (Peter Martin) and their daughter Cheryl (Jessica Hynes).
"I'm so bloody shocked. She was absolutely wonderful and amazing to work for. Kind, funny, witty. A true professional and one of the most generous people I ever worked with. She must have gone through a lot but I never saw her looking unwell. She never flagged in work and the atmosphere when she was writing and acting was brilliant." – Ricky Tomlinson via The Mirror
The show, produced by Granada (later ITV Studios), ran for three series on BBC Two and BBC One (S2-) including Christmas specials between 1998-2000 before returning in 2006 for annual specials. The last episode, Barbara's Old Ring, aired on Christmas Day in 2012, and attracted 9.9 million viewers.
"We are deeply saddened to learn of Caroline's death. She was a brilliant, award-winning comedy writer and performer, much-loved by audiences – specially for The Royle Family and Mrs Merton – and for her wonderful voicing of many shows. Our thoughts are with her family and friends." – Tony Hall, BBC Director General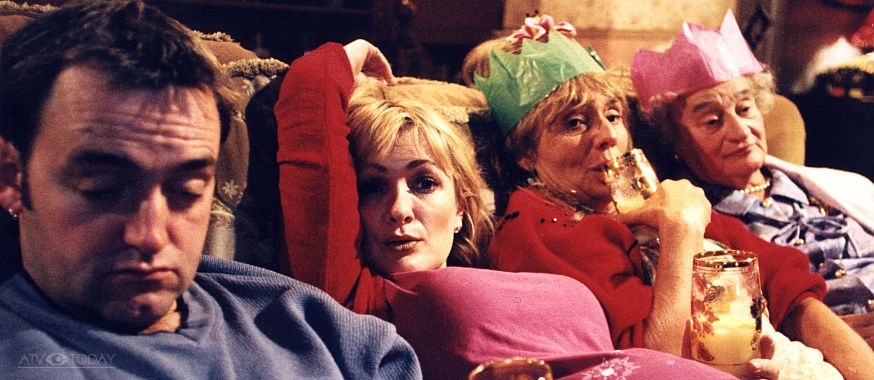 The Royle Family changed how sitcoms were produced for television, taking the format away from established layout and style.

Aherne has since featured as the narrator on Channel 4's hit reality series Gogglebox.
The star announced that she was battling lung cancer two years ago, having previously fought bladder cancer and been born with a rare form of the disease affecting the retina.
"My brother and I were born with cancer of the eyes, the retina, my mum told us only special people get cancer. I must be very special because I have had it in my lungs and my bladder as well. But the brilliant thing was the Macmillan nurse was like an angel because when you hear them telling you you have cancer, it's true you don't take it in properly or you just don't think of the questions." – Aherne in 2014
She also battled with depression and alcoholism in the 1990s and received treatment at The Priory in 1998, after attempting to take her own life. Between 1994 and 1997 she was married to bassist Peter Hook of New Order fame.