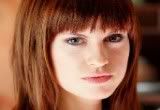 We take a look at the several drama serials that connect some of the actors in ITV's brilliant new drama series, Lost in Austen.
Some faces crop up on television in a number of different shows and some end up working alongside each other again and again. ITV's new drama series, Lost in Austen, starred a few familiar faces you might have seen somewhere before. Here we list what other shows connect these actors.
Hex
Jemima Rooper, who plays Amanda Price, and Christian Cole, who plays Caroline Bingley, starred alongside each other in Sky One's Hex. The supernatural drama series, touted as a British Buffy, saw Cole play teenage witch Cassie McBain and Rooper playing Lesbian Ghost, and Cassie's best friend, Thelma. The series ran for two seasons but Christina Cole bowed out part way through the second season.
Doctor Who
Several actors in Lost in Austen have guest starred in Doctor Who. Christian Cole appeared in a third season episode, yet again, playing a Witch. This time a bad witch stranded in Shakespeare time. Way back in the first season of New Who Florence Hoath, who plays Kitty Bennett, guest starred in a two-part story. Michelle Duncan, who plays Charlotte Lucas, guest starred in a season two episode of the sci fi series. In season three Gugu Mbatha-Raw, who had a small role in the first episode of Lost in Austen, had a recurring role as Tish Jones. Alex Kingston, who plays Mrs Bennett, more recently appeared in Doctor Who as River Song, a future possible companion for the Doctor.
Bonekickers
Hugh Bonnerville, who plays Mr Bennett, and Gugu Mbatha-Raw both had lead roles in Bonekickers, the recent BBC1 archaeological drama.
Rome
Lindsay Duncan, who'll play Lady Charlotte De Bourgh, and Guy Henry, who'll play Mr. Collins, both had roles in the HBO/BBC drama romp, Rome. Lindsay Duncan played Servilia of the Junii in the series.
Sugar Rush
Jemima Rooper and Michelle Duncan both guest starred in episodes of the C4 lesbian drama, Sugar Rush.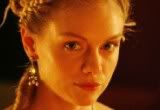 Miss Marple
 Florence Hoath and Christina Cole have both appeared in ITV adaptations of Miss Marple.