It's that time again for our monthly look back to the showbiz and media stories of the previous four weeks that brought us stories of wonder, bemusement and entertainment in May 2019.
---
Martin Clunes branded 'a dick' for Elephant ride
Martin Clunes was dropped as patron of the Born Free animal charity after riding a "captive, wild" elephant Digital Spy reported. The former Men Behaving Badly actor was seen riding the grand creature in his ITV series My Travels And Other Animals.
The actor was given a social media ticking off following scenes of him mounting the elephant, although he did raise concerns within the programme 'not wanting to hurt her'.
"Born Free has always been opposed to the exploitation of captive wild animals for entertainment and human interactions. There is clear evidence that training, keeping and riding captive elephants causes distress and suffering." –  Born Free statement
Clunes is the second celebrity to be taken to task for elephant riding following similar scenes with singer Jane McDonald on her Channel 5 cruising series. Clunes was called 'a dick' for his ride, which was one of the least offensive tweets.

I'm sorry I haven't a Clunes. Doc Martin actor Martin is in elephant hot-water.
---
May saw the one-time prestigious BAFTA TV Awards take place. Killing Eve, the spy-action thriller, won three gongs for Drama Series, Leading Actress for Jodie Comer and Supporting Actress for Fiona Shaw. Patrick Melrose, based on Edward St Aubyn's semi-autobiographical novels, received the BAFTA for Mini-Series and Benedict Cumberbatch, who plays the titular character, won the first BAFTA of his career for Leading Actor. Ben Whishaw won the BAFTA for Supporting Actor for his portrayal of Norman Scott in the drama series A Very English Scandal.
In Male Performance in a Comedy Programme, Steve Pemberton won the BAFTA for Inside No. 9. Jessica Hynes took home the BAFTA for Female Performance in a Comedy Programme for There She Goes. The BAFTA for Scripted Comedy was won by Sally4Ever.
The BAFTA for Entertainment Programme was awarded to Britain's Got Talent for the second year running and A League of Their Own received the award for Comedy Entertainment Programme. Lee Mack won his first BAFTA, in the Entertainment Performance category for Would I Lie To You?
I'm A Celebrity… Get Me Out of Here! received the BAFTA for Reality & Constructed Factual. Who Do You Think You Are? won in the Features category. Missed Call won the BAFTA for Short Form Programme. In the International category, the BAFTA was awarded to Succession, the US satirical drama.
EastEnders was awarded the BAFTA for Soap & Continuing Drama. Killed By My Debt won the BAFTA for Single Drama. News Coverage was awarded to Channel 4 News' Cambridge Analytica Uncovered, and the award for Current Affairs was presented to Myanmar's Killing Fields (Dispatches).
Louis Theroux's Altered States received the BAFTA for Factual Series, Gun No. 6 won Single Documentary and Suffragettes with Lucy Worsley won Specialist Factual. 2018 World Cup Quarter Final: England v Sweden triumphed in the Sport category, while the award for Live Event was presented to The Royal British Legion Festival of Remembrance. 
The Special Award was presented to Nicola Shindler in recognition of her outstanding contribution to the television industry while the Fellowship, the highest accolade the Academy bestows, was presented to Joan Bakewell in recognition of an illustrious career that spans over 50 years.
The entirely viewer voted Soap Awards and NTA's may just show how this toffy luvvie-love-in isn't in tune in many ways with popular culture. But we'll talk BSA next time…
---
Flood the EastEnders
If EastEnders was ever to meet its final plotline former boss John Yorke thinks its most fitting end would be to wash away Albert Square in a major River Thames flooding.
"I'd have the Thames flood all of London – that would do it. Hopefully, it won't happen." – John Yorke quoted in the Daily Star
Despite a BAFTA win the soap has fallen behind its ITV rivals for several months with episodes barely managing to make ratings log BARB's Top 15 rated shows, while Emmerdale and Coronation Street are regularly in the top ten. However while the Beeb soap has been behind in the ratings its fellow sagas over on the other side have suffered from episode over-kill with both soaps' plots coming in for sensational OTT criticism
EastEnders began in February 1985 as a twice-weekly continuous drama serial, it currently airs four nights a week on BBC One under the control of former Emmerdale, The Archers, Crossroads and Coronation Street executive Kate Oates.

The EastEnders' have faced many fires, but John Yorke would flood them out in a final episode.
---
The smell of a plug-in air freshener debate
'Posh' telly property presenter Kirstie Allsopp sparked a huge debate in May about cleaning after talking about her dislike of plug-in air fresheners on social media. The Channel 4 regular said she felt popular home fragrances are "unacceptable" and "not necessary",  giving further criticism of them that they are "disgusting, environmentally unjustifiable and give many people, me included, shattering headaches".
Hello Magazine went on to note how 'Instead, Kirstie favours a natural approach to cleaning, and prefers to open her windows to let fresh air in rather than spraying air fresheners or home fragrances around.' That's fine as long as you don't live near a chemical plant, a busy road or a sewage works.
---
Being picky makes you Jack
Suranne Jones has said that she 'avoids roles that steal her soul and is devoting herself to challenging roles' The Guardian newspaper reported.
"You give your soul to roles like this and you fight for the character in a way because there's a cause to it all, and those are the roles I want more of in the future"
Jones who came to major telly fame via Coronation Street has since those ITV serial days gone on to become one of the UK's top acting royalty. Her latest leading role is in Gentleman Jack for BBC One. In the Beeb drama she plays the part of Anne Lister, a lesbian writer in the 19th century.
"I hope our audiences will see this as a really modern period drama, which sounds odd to say, not only because of the story of the lovers but because we've got a woman in a man's world who presents herself in a way that she wants to present herself and doesn't conform to the norms of society."
Jones has become one of the UK's acting royalty.
---
A-Mazing new Zone
Channel 4's iconic The Crystal Maze is to return later this year with an all new zone. Not quite the change audiences on social media wanted, with many suggesting a new interactive host might be more useful.
Of course this is simply because so many are still pining for Richard O'Brien the original star of the series. Anyway The Eastern Zone will arrive in the forthcoming episodes. Influenced by the historic art, architecture and monuments of East Asia, the zone will feature five games rooms for eight new games, set around a lily pond, cherry blossom trees and ornate vases.
The Eastern Zone has been designed by production designer, James Dillon, who has designed all the zones featured on the series since its original run in the 1990s. He and the programme's team of games designers have come together to create a fantasy microcosm of pre-modern East Asia complete with challenging themed games.
---
'Oh I Say' sexless June
Don't worry we're not on about the month of June, but EastEnders leg-end June Brown who in May told us about her sex life – or the lack of it.
Metro newspaper reported how the 92-year-old actress – who plays Dot Branning  in 'Enders – stopped making love in 2003 following the death of her husband Robert. However it seems it wasn't just his passing that had left her sexless. She said she'd been bored with bonking for years. 
In 2001 June appeared in a Comic Relief skit where she was seen to be in bed having 'a foursome' with a Beeb executive and fellow 'Enders stars Jessie Wallace and Lucy Benjamin.
However life isn't dull for Brown who since 2013 has been mates with Lady Gaga, with clubbing invites a-plenty. June and the Poker Face singer met on The Graham Norton Show and a friendship bloomed.
No Sex Please, we're partying. June Brown.
---
Rewind Quickies
[] Ellen Evans has been appointed by the BBC Children's department as the new Blue Peter Editor. The long-running programme continues to air on the CBBC Channel. Ellen has worked at the BBC on factual and entertainment output for over 20 years, on shows for BBC One, BBC Two and BBC Three as well as a wide range of other BBC Children's output. Ellen is the eighth editor of the show which celebrated its 60th anniversary in 2018. She succeeds Ewan Vinnicombe, who left the BBC in April.
[] It was congratulations to Corrie star and singer Kym Marsh who became a nanna. The 42-year-old helped to deliver her daughter's "beautiful" son on May 3rd. The actress who plays Michelle Connor in Coronation Street spoke on social media about the birth describing her daughter Emilie as "an absolute warrior".
[] The Sun reported shamed Corrie star Bruno Langley has moved in with married university student who is the wife of £6million fraudster. The departed Weatherfield actor has apparently, according to the paper, moved in with Lucy France just months after her other half Jonathan was locked up for a £6million racket. Langley was dropped from ITV in 2017 for groping two women.
[] In other Bruno Langley news The Mirror reported that the actor who appeared as Todd Grimshaw in the soap is now working as a photographer. 'Now, instead of earning six figures on the Street, he works at a studio charging £65 for a four-hour shoot.' the tabloid noted.
[] The 2019 Eurovision Song Contest in Tel Aviv was seen by 182 million viewers in 2019 across 40 countries the organisers noted. In the winning country, the Netherlands, the Eurovision Song Contest delivered its largest audience for public broadcaster NPO/AVROTROS since 2014. The UK came last, if anyone in the UK really cares.
[] The estranged wife of the man found dead in a suspected suicide after appearing on The Jeremy Kyle Show claimed he was a paedophile while also noting in other reports she was glad he was dead. Proving, if the quotes are true, she's as classy as a plastic thong.
[] Comedian Jason Manford spoke out about the mental health issues he has faced, saying he has found the experience "very difficult to deal with" RTÉ News reported. The former One Show host and radio personality said he was spending less time on social media after it sometimes became a negative experience.
[] Good Morning Britain weather presenter Laura Tobin became the latest of the ITV breakfast show regulars to unleash a swear word. However viewers could understand the slip considering Laura was dangling by a wire at the top of Blackpool Tower. Although we're not sure 'crap' is really that much of a 'naughty word' these days.
[] Maisie Williams is the first celebrity guest judge to be confirmed for RuPaul's Drag Race UK, due on the channel, without a channel, BBC Three later this year.
[] Celebrity chef Jamie Oliver said he was "devastated" after his restaurant group went into administration, with 1,000 jobs being lost. BBC News reported that his company including Jamie's Italian chain, Barbecoa and Fifteen, appointed KPMG as administrators. 25 eateries had already closed. I'm sorry for the staff, but I have no time for Oliver and his bollocks. Of course governments will thrill at the shite he spews, it's making them more money. The real answer – better food education is schools (we used to call it home economics youngsters) – better Physical Education lessons and providing things like Youth Centres for activities is probably the answer but that costs money. Think on Jamie, think on.
---
It's not good to talk
David Beckham found that the old BT slogan 'It's good to talk' isn't always the case – especially when behind the wheel with no 'hands free' device. The footballer and star-brand personality was disqualified from driving for six months on May 9th for using his mobile phone while driving a car.
The 43-year-old hubby of 'Posh Spice' had been seen by a member of the public driving his Bentley in central London while making a mobile phone call. The incident happened in November 2018. The Manchester United icon pleaded guilty to the charge.
Sky News reported that 'the ban came as he was given six points on his licence, which took his total to 12. He had six from previous speeding offences. He was also fined £750 and ordered to pay £100 costs and a £75 surcharge fee.'

David Beckham, fined for car call.
---
Eurovision Autotuned
Now I could possibly accept the entire of Eurovision being autotuned, or just even muted, but it was Madge's segment that apparently was fiddled with later. 'Madonna SLAMMED by fans after posting 'auto-tuned' version of her heavily-criticized Eurovision performance onto YouTube' The Daily Mail headline ran.
She disappointed audience members with the vocals to her song Like A Prayer at the 64th Eurovision Song Contest the newspaper said. I have to note that ATV Today team members were at 'vision events in Glasgow and London and places erupted into singing along with Madge for that song. It was her new song that left everyone sitting in bewildered silence.
'Her highly-anticipated and controversial performance was slammed online and she was accused of being out of tune as she took to the stage following a four-year hiatus.' The Daily Mail noted. A video of the original performance was run alongside the 'autotuned' version showing the edits to improve her performance the paper went on to reveal.
---
Putin on a Chat Show
Everybody's favourite bear-wrestling global strongman Vladimir Putin has finally achieved his ultimate goal – a chat-show on the BBC. Forget global politics, landing two pilot episodes on BBC Two of his soon to be world-famous chat show marks the ultimate victory for Vlad, leader of the free world.
Tonight With Vladimir Putin is a semi-scripted comedy chat-show format – with a significant twist. In a television first, ground-breaking live VFX, created using performance capture technology, developed by creative studio Framestore, enables a 3D digital cartoon of Putin to walk around and sit behind the desk, interviewing real human guests in front of a studio audience, all in real-time.
The first guest in episode one is Alastair Campbell, whom Vlad warmly thanks for his part in making such a mess of things, and then June Sarpong discusses her career highs and lows… after which Vlad forces her to play a game of Diversity Challenge.
In episode two Vlad asks his first guest the same question he asked at the production meeting: "Who is Joe Swash?" Before trying to get his head around feminism with Guilty Feminist podcaster, Deborah Frances-White. It's fair to say his grasp of the concept remains patchy.
---
Kathy Beale reveals her Prince Albert
EastEnders' Kathy Beale has suffered over the years, if it wasn't having to deal with endless balls of wool with her knitting enterprises she was being taken unexpectedly, and unwantedly up the Dagmar by James Wilmott-Brown. But things are now looking more colourful for the Beale that returned from the dead – as she opens Walford's first gay bar, The Prince Albert.
"Kathy Beale will soon be flinging the doors open to The Prince Albert." – BBC Elstree
In recent weeks viewers have seen Kathy discover the necklace that Ben gave her is worth a considerable amount of money, leading her to attain the lease for the bar. Keen to overhaul the bar's look and name, Kathy deliberates on what to call it and after some inspiration settles on The Prince Albert, the husband of Queen Victoria, which fits as a nice nod to the mainstay Queen Vic pub. It also of course has connotations associated to genitals so hoist those rainbow flags.
It's never plain sailing for a Walford boozer; with both The Queen Vic and the E20 – and before them The Dagmar and Strokes Wine Bar – providing backdrops for some of EastEnders' most dramatic moments. From a simple pint over the head to numerous affair reveals and even murder, Walford watering holes are often very dangerous places, the Vic alone has had more fires than Alan Sugar has dished out on The Apprentice.
Our favourite name for the E20 nightclub in a previous incarnation under the ownership of Sharon Mitchell had to be 'Angie's Den' a homage to her adoptive parents Angie and Den Watts.
"As Kathy settles in behind the bar, only time will tell what drama will unfold on the dancefloor." – BBC Elstree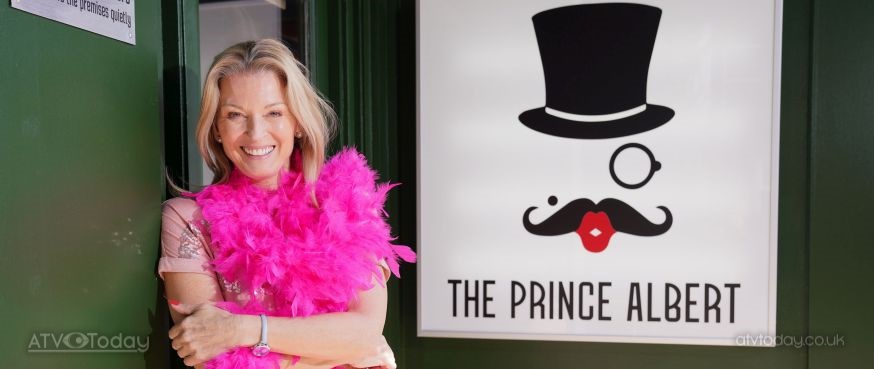 Keep it gay, Kathy is opening a Gay Bar for Walford.
---
Rewind Quickies
[] Patsy Kensit and Luke Roberts will reprise their roles as Faye Morton and Joseph Byrne in BBC One's Holby City for one episode as part of the programme's 20th anniversary celebrations. The episode is due to air in autumn this year. Faye and Joseph return to the hospital under dramatic circumstances and come face to face with Jac – Faye's nemesis and ex love rival. The turbulent history between the three of them doesn't bode well when certain events mean they need to come together as life hangs in the balance.
[] Channel 4 has a comissioned a sixth series of award winning comedy, Friday Night Dinner with Tamsin Greig, Paul Ritter, Simon Bird and Tom Rosenthal returning as the Goodman Family, with Mark Heap as Jim. The new six part series will shoot late 2019 and transmit next year on Channel 4.
[] Described as 'the world's oldest record store' Spillers Records in Cardiff has stopped stocking Morrissey's celebrated back catalogue NME reports following a controversial appearance on The Tonight Show With Jimmy Fallon which he was seen to back a far-right political group
[] The Edinburgh Evening Newspaper ran a headline 'West Lothian sex addict tells of Jeremy Kyle show trauma' following the shows demise. Danny Fuller and Shauner Procter accused the daytime show of letting down participants. 'They tell you to go out and not to hold back. They want you to play off each other and encourage it – the screaming and shouting… There are runners of producers going backwards and forwards telling you they can't believe what your partner said about you.' I suspect there is a whole years worth of content for a new chat show with the topic 'The Kyle Show ruined my life'.
[] Former JLS performer Oritse Williams was found not guilty of raping a woman in his hotel room. The singer denied the attack along with his manager Jamien Nagadhana who was also found not guilty of sexual assault and assault by penetration. The alleged incident had been reported after a concert in Wolverhampton in December 2016.
[] David and Victoria Beckham bought out their business partner Simon Fuller last month taking his  33% stake in Beckham Brand Holdings. The former England footballer and his alleged singer wife have seen profits for brand Beckham drop 20% the past year. The issue was with Vicky's fancy fashions apparently. Still the company is turning over millions, so she'll have nothing to pout about in 2019 surely
[] Moving swiftly on to someone who was truly talented and deserves a memorial to honour her lasting comedic legacy, Victoria Wood. The creator of hits such as Dinnerladies, Pat and Margaret, As Seen On TV, All Day Breakfast and Acorn Antiques The Musical died in April 2016. On May 17th a statue in her hometown of Bury was unveiled – but it looks like we might be waiting a little longer for a fitting tribute with the current statue looking more like Wallace from plasticine animation Wallace and Gromit than Wood. Still, she'd probably have seen the funny side…
[] May exits. No not her of Number 10. I'm talking Emmerdale. The show last month firstly saw the sudden and unexpected on-screen demise of Lisa Dingle just after her second wedding to Zac. The Dingle leading lady, played by Jane Cox, announced earlier this year to her family she had a terminal illness but no one expected her final scenes to air so soon. ITV viewers were left emotional following the transmission. The other departure is yet to be screened however last month Gaynor Faye announced she is leaving after seven years due to 'stagnating as an actress' which sounds painful. Jane Cox was in the series for 23 years so goodness knows how much nated stag she's suffered.
[] EastEnders star Louisa Lytton went public with news that her American boyfriend Ben Bhanvra had popped the question on their recent holiday to the Maldives. Nice news is always good news.
[] Some of the Loose Women regulars revealed they don't wash often. No need to say anything else on that.
[] BBC newsreader Jane Hill returned to work in May following a six-month absence from Beeb screens. The One O'clock News host was last seen in November before taking time off to undergo treatment for breast cancer.
---
Jeremy Kyle 'ruined my life' news round-up
It was the month that saw Jeremy Kyle unceremoniously axed from ITV's daytime schedules following the suicide of a guest. Since news broke of that tragedy, many ex-staff and former show 'victims' have come forward to share their experiences of the long running morning show.
One television researcher told ATV Today how she, when working at Granada, said a friendly 'hello' to Kyle who gave her his 'you piece of shit' look. With such a seemingly charming personality it wasn't surprising that once the initial news broke that Kyle had been axed more stories of woe and thrice woe relating to Jeremy and his flagship ITV gutter show would start flowing.
Yahoo News reported 'the death of a recent guest is "the tip of the iceberg" and accused the programme of "exploiting" vulnerable guests'. while BBC News brought a 'day in the life' of the show via a BBC staffer who once worked on the show 'I saw things that you would never imagine happening on any other TV programme – guests running around the place uncontrollably, screaming and swearing at production crew… The clothes you see the guests wear are sometimes not their own. The show might give them a basic jeans and T-shirt combo or sometimes a more stereotypical tracksuit and hoodie look'.
A 'manipulated' guest who became the first person convicted of assault on British TV when he headbutted his wife's lover on the show also spoke out about the 'staging' of the production. David Staniforth headbutted love rival Larry Mahoney when it was revealed Larry had been poking David's wife of 26-years, Jennifer. Staniforth said family had blackmailed him to appear on the show and producers had made fake promises to ensure his appearance.
A more serious story surfaced noting following an appearance on an earlier un-aired Channel 5 pilot show fronted by Kyle. Erica Pawson, 36, reportedly took her life six days after her appearance. The death followed her husband walking out on her after 18-years following their TV appearance. Her widow said 'He's very aggressive to people he doesn't know. He shouldn't be like that. He's very full-on and in-your-face.' While many have issues before arriving it appears in some cases the programme failed to help, only made matters worse. Former boxer Paul McCarthy killed himself three months after appearing on Kyle's ITV show in 2014.
The Guardian took the guest slant speaking to a man who became known as 'the most hated person in Britain' and considering how much damage some Tory MPs have done to the sick and disabled that takes some effort. Following Dwayne Davison's appearance 'he struggled for work and was mocked in the street as a result, and tried to kill himself after sustained public shaming' the noted while the BBC News Channel spoke to Babette Lucas-Marriott who was in The Jeremy Kyle Show audience for the episode concerning the suicide victim. She told the Beeb the show was 'uncomfortable viewing'. Arguably to anyone with any compassion it had been uncomfortable viewing for the past fourteen years…
However fans of the show have demanded its return, with former regular guests protesting outside the studios that their gravy train has come to an end. The freebie nights in fancy hotels are over. Kyle however is reported to be walking away with a three-million quid payoff.
"I tried to hold Jeremy Kyle show to account and I failed. I witnessed it endangering life of vulnerable mentally ill young man. And now a guest is dead. This is sanctioned abuse & bullying that's been in plain sight for years." – journalist Carole Cadwalladr
Jeremy Kyle took the 'cruel to be kind' approach to dealing with his guests.
---
Kerry Katona was 'too busy' to take her child to school
Former Loose Women regular Kerry Katona pleaded guilty to failing to send her child to school, The Sun reported, with the one-time Atomic Kitten singer excusing her lack of parental control on "work commitments".
The mum-of-five was fined £875 the tabloid noted following one of her children being absent from school term time for 45 days without explanation.
It is the second time Katona, who has been the subject of her own trashy reality shows, has been faced with a fine for the same reason. The first offence was committed in 2017.

Kerry has just been too busy being a massive celebrity to make sure her kids go to school.
---
Pete Doherty feels a little prick
Singer Pete Doherty had to receive NHS treatment after a run-in with a hedgehog. 
Sky News reported how 'The Libertines frontman was on the sharp end of a hedgehog apparently while he was taking his pet Siberian huskies for a walk'. Doherty reportedly peirced his hand on the little creature with the wound later becoming infected. Details of how his hand was spiked by the hog remain undisclosed but the singer was later noted as being discharged following treatment in Manchester.
"Thank you to the wonderful men and women who work within the NHS. What absolute angels and a million times they deserve our respect and thanks." – Pete Doherty on Twitter
---
Britboxing match
'ITV and the BBC are in a face-off over their joint streaming service BritBox, as the UK broadcasters' differing priorities threaten their united front against the likes of Netflix' The FT reported.
The financial newspaper added 'Negotiations between the country's two biggest TV groups have grown tense, according to several people with knowledge of the matter, with commercial network ITV committing more fully to the subscription service than the publicly funded BBC.' The paper quoted that ITV aims to invest £65million quid into the service, which is possibly almost the figure spent on Coleen Nolan's food annual allowance.
---
RIP May
It was a fond farewell in May to screen legend and singer Doris Day aged 97, Power Rangers actor Pua Magasiva passed aged 38, 72-year-old Peggy Lipton famed for Twin Peaks and The Mod Squad died of cancer,  Alvin Sargent the American screenwriter who penned the scripts for the Spider-Man film trilogy died at the age of 92, Brian Walden ITV political host and former Labour MP departed aged 86.
Comedian and singer Freddie Starr took a final curtain call aged 76, former Australian Prime Minister Bob Hawke died aged 89, actor Tim Conway the voice of Barnacle Boy in Spongebob Squarepants died aged 85, the BBC's first female newsreader Nan Winton made the final headlines aged 93 also aged 93 The Tiger Who Came To Tea author Judith Kerr passed away and Austrian Formula 1 legend Niki Lauda passed the finish line at 70.
Jake Black of band Alabama 3 passed aged 59, Butterflies and Coronation Street actor Andrew Hall died aged 65, fellow Weatherfield actress Irene Sutcliffe died aged 94 and Godfather actor Carmine Caridi dies aged 85
And the moody-faced Grumpy Cat an internet legend in her lifetime departed unexpectedly aged 7. Grumpy, real name Tardar Sauce, became an internet meme not long after her birth in 2012. She was often seen to be frowning about topics of conversation. While Grumpy may have gone, her memes will ensure she remains an internet personality for decades to come.
---
STV launched fully regionalised HD service for Scotland on Sky
May saw Scottish broadcaster STV launch as the UK's first fully regionalised HD public service broadcaster on the Sky platform giving viewers in Scotland an enhanced viewing experience. HD is now the default choice at 103 for Sky HD customers in all four STV regions across Scotland, providing viewers with all of the regional programming including popular STV News at Six, which continues to grow its audience share.
This announcement follows confirmation earlier this year of a five-year strategic partnership between STV and Sky which will give Sky viewers across Scotland even better access to STV's hit shows whenever and wherever they want them.
"We're delighted STV viewers will be the first to enjoy a fully regionalised service on Sky. Sky is a hugely popular platform in Scotland, meaning more viewers will now be able to access their local news, more relevant advertising and programming, all in glorious HD. We are pleased to be able to deliver this ahead of the planned launch having worked in close collaboration with Sky." – Bobby Hain, STV's Managing Director, Broadcast
The launch of a fully regionalised HD service on Sky follows STV's multi-million pound investment in new HD studio facilities, with the Aberdeen studio now operational and plans in place across studios in Glasgow, Edinburgh and Dundee.
Sky customers will receive further improved access to STV later this year when leading VOD service – STV Player – is made available on their set top boxes for the first time. This will enable Sky customers in STV's broadcast licence areas to catch up on their favourite STV programmes – including Coronation Street and Britain's Got Talent and classic shows from the STV archives – on Sky Q and Sky+ set top boxes.

STV is fully HD across its four Sky regional service.