The festive special will air on UKTV's comedy channel Gold.
The special Christmas episode of The Cockfields will air in an hour-long slot following on from the six-part series two due to air next month.
"Getting to write a Christmas Special is a dream come true for us and we can't thank Gold enough for being daft enough to let us do it. We can't wait for you to hang out with the Cockfields again, while we all stuff our faces with sausage rolls and chocolate oranges. Merry Christmas from The Cockfield Family." – statement from writers Joe Wilkinson and David Earl
The Cockfields Christmas Special stars Joe Wilkinson as Simon and Susannah Fielding as his fiancé Esther, travelling back to the Isle of Wight between Christmas and New Year to visit Simon's ever-doting mother (Sue Johnston), his controlling yet well-meaning stepfather (Gregor Fisher) and his celebrity-obsessed stepbrother (Ben Rufus Green).
The first series launched in 2019 with Diane Morgan playing girlfriend Donna and the late Bobby Ball as stepdad Ray. The original story saw Simon persuaded to mark the occasion of his 40th birthday back at the Cockfield family home and a fair amount of Isle of Wight "fun" in store for Simon and Donna.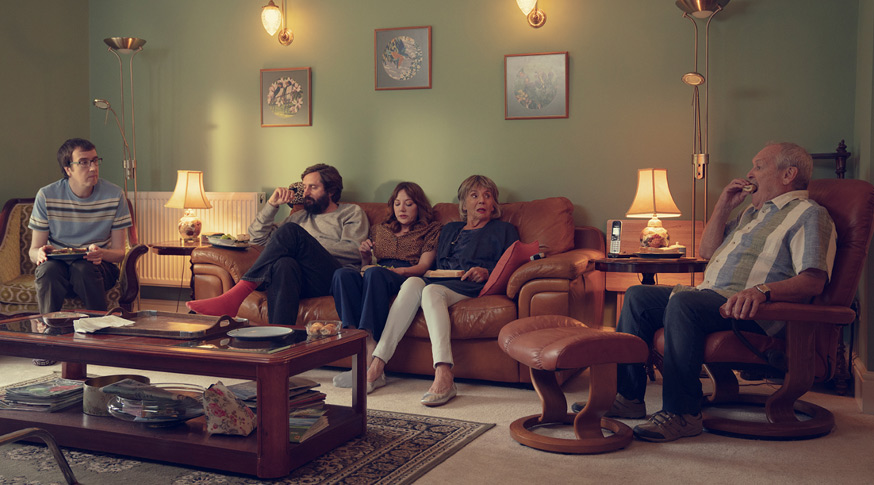 Alongside interruptions from Simon's Alan Titchmarsh-obsessed stepbrother David (Ben Rufus Green) and the Cockfields' oddball handyman neighbour Andre (Jeff Mirza). If that wasn't enough, Simon's father Larry (Nigel Havers) and his new American girlfriend Melissa (Kim Cattrall) were seen causing tensions. The question was, over the three-part series, could Simon survive a long (very long) birthday weekend with his biological and extended family without losing his cool, or his girlfriend?
"The Cockfields follows a year of high-profile UKTV Original commissions for Gold in 2021 such as series two of The Cockfields, series two of Sandylands, French & Saunders: Funny Women, The Vicar of Dibley: Inside Out and Murder, They Hope." – UKTV
The Cockfields Christmas special airs in December. Series two of The Cockfields starts next month. GOLD Sky 110, Virgin 124, BT and TalkTalk 310 On demand on Sky, Virgin and Now TV