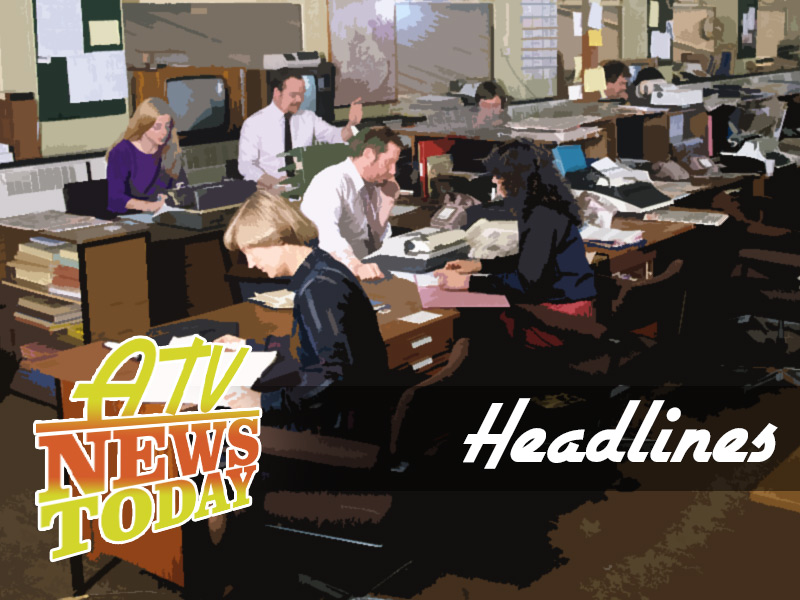 A look at what the television version of ATV News and ATV Today reported on between February 1956 and December 31st 1981.
ATV Midland Newsday launched with ATV Midlands in 1956. The first main announcer, the first regional female news anchor, Patricia Cox, provided news and features from the East and West Midlands.
In 1964 a magazine series, ATV Today, was added to the schedules and by 1970 the programme had been extended to included the evening's news content, with the stand-alone news programme merged into the production.
First aired from the Alpha Television Studios in Aston, the programme aired from the ATV Centre in Birmingham from 1969 onwards. ATV Today provided commercial television in the Midlands with news and feature reports until 1981. Hosts of ATV Today included Anne Diamond, Nick Owen, Bob Warman, Sue Jay and Derek Hobson.
---
On this Day: January 23rd 1973:
ATV Today looked at the popularity of horse meat in Birmingham, with reporter Tony Maycock asking locals if they would try it? He even finds some who do, regularly.
Thanks to increasing prices of other meats, such as beef, customers have been trying out horse meat, which at the time was a much cheaper option. However, across the West Midlands, only one butcher in Birmingham sold the meat.

On this Day: January 21st 1981:
John Swallow finally caught the phantom  – see January 16th 1981 below – who had been sending anonymous pictures of Mario Lanza to pubs in the Black Country over the last seven years.
John finally gets to interview the phantom, who wore a mask to preserve the secret of his identity, to find out why he'd been giving the pubs the Mario treatment.
---
On this Day: January 18th 1978:
Margaret Hounsell interviewed Professor Malcolm Symonds about Test tube babies. Nottingham City hospital was one of the first to run a unit under the National Health Service.
ATV Today reported how hundreds of women were on the waiting list for the AID treatment. The real-events later saw Crossroads introduce a storyline showing the struggles of such couples, with soap's first test-tube baby born in 1983 to Glenda and Kevin Banks (Lynette McMorrough and David Moran). The plot inspired punk group The Toy Dolls to write the track 'Glenda and the Test Tube Baby'.
On this Day: January 17th 1978:
A Toy Fair at the National Exhibition Centre was in full swing. Chris Tarrant and Noele Gordon popped along to play some games.
Children trying out various toys, assisted by Chris and Noele Gordon including Noele playing a Crossroads board game. We also see a Star Wars stormtrooper confronting some of the children and children looking at new Muppets toys.
---
On this Day: January 16th 1981:
'The Phantom' story continued in 1981. The first report on January 8th noted one landlord, Gerry Grosvenor, of the Old Cat Inn, Stourbridge, has received numerous drawings and letters and believes it to be the work of a local. Peter Murdoch, a brewery official, said that he has received postcards from the Isle of Wight, Torquay, Tenby, York and Portugal.
On this day in '81 John Swallow is still on the trail of 'The Phantom' who leaves pictures of Mario Lanza in pubs across the Black Country.
---
On this Day: January 15th 1980:
There wasn't a lot of titters, no missus, not today, as comedian Frankie Howerd was in a Birmingham hospital having fallen over due to icy conditions.
Howerd fell over on the ice on Jan 14th and was being treated for a fractured hip bone. John Swallow popped in to see how he, and others, were getting on.
'Oh don't, its wrong to mock, don't make mock. One's making mock out of Francis…'
On this Day: January 14th 1977:
Bev Smith interviewed with Dr. Gordon Avery, Community Physician for Warwickshire, about his idea of killing off radio and television personalities, in order to draw the public's attention to the dangers of cigarette smoking and lung cancer.
Smith then interviews the acress, Noele Gordon from Crossroads, in the ATV make-up department, about the doctor's suggestion. She says that they have already had a similar story line in the series four years ago.
---
On this Day: January 13th 1966:
Report One: It was a Thunderbird's special on ATV Today with two reports here for your retro television pleasure. First ATV cameras head to the film studios of A.P. films to go behind the scenes of the puppet production. David Lloyd provides a commentary.
Lionel Hampden interviews Sylvia Anderson about the characters in the series; Derek Meddings about the special effects and filming techniques and Thunderbirds creator Gerry Anderson about the appeal of the series for adults and his hopes to move into live action film making.
Report Two: Lionel Hampden interviews Lady Penelope about the large number of outfits in her wardrobe.
Each time the shot cuts back to Lady Penelope she is wearing different clothes while denying she has a large wardrobe and is not willing to be drawn on the subject as she is a secret agent and has more important things to deal with.
---
On this Day: January 12th 1981:
Lynda Berry interviewed comedian Ronnie Corbett for ATV Today. The Two Ronnies star, seen on the Beeb with Ronnie Barker, was in the Midlands appearing at the Coventry Theatre with the other Ronnie.
He talked about his work with both Danny La Rue and Ronnie Barker and how he was spotted performing in a club by David Frost. He also talks about how he puts together his solo spots on The Two Ronnies.
---
On this Day: January 9th 1969:
Singer, comedian, presenter and ATV personality, Des O'Connor was in Birmingham to meet his fans.
ATV News cameras captured the Des O'Connor Show host at the GPO House in the city. Here he mingles with staff, tries out the telephone equipment, speaking to unsuspecting callers over the line and then signs his recent chart single 'One, Two, Three O'Leary' that spent eleven weeks in the UK charts and peaked at number 4 in November 1968.
Des O'Connor hosted his own series for ATV from 1963 through to 1977. He then went on to front a chat show throughout the 80s and 90s for both the BBC and Thames TV for ITV.

On this Day: January 6th 1976:
Bev Smith visited enthusiast Stephen Flowers at his home at Braunstone in Leicester to talk to him about his vast collection of Dinky toy cars
The ATV Today report sees Bev interview Stephen about his collection of die-cast vehicles, it's believed that his collection featured around about 750 miniature vehicles.
---
On this Day: January 5th 1968:
ATV Today visited centenarian, Mrs Alice Ann Osgerby, in her greenhouse at Stratford-upon-Avon.
Born on the 5th January 1868, in Stratford-upon-Avon, we see Alice walking across her garden to the greenhouse, sprightly and clearly no near feeling 100. She is then seen watering plants.
Her youthfulness is further proven when she picks up a large shovel and plants a tree in her back yard.
Alice lived a further three years passing away in October 1971 at her home in Stratford-upon-Avon. Unfortunately, there is no sound with this report.
---
On this Day: January 4th 1972:
Peter Green vox pops men in Birmingham asking them what they consider their ideal woman to be for ATV Today.
On Broad Street in Birmingham City Centre Green stops men and asks them about their ideal woman, with answers ranging from 'the wife', to a man who prefers women with long blonde hair and big bust another prefers his 'well made' while a few mention personality with attractiveness a bonus.
The debate was due to the impending 'Miss ATV 1972' contest.
---
On this Day: January 2nd 1962:
ATV's Midlands News reported on the snow clearing operation across the streets of Birmingham.
The ATV cameras captured a lorry fitted with a snow plough working to clear a road while men shoveled snow into the back of another lorry, which is then emptied into a drainage channel.
The report also contains shots of a street with diversion signs erected due to a partially collapsed building.
---
On this Day: January 1st 1982:
ATV Midlands LTD, the company that bid for the Midland ITV region, launched as Central Independent Television PLC.
Here Central News show how they put a report together – including a shot of ATV's Val Parnell for some reason on a monitor! Wendy Nelson explains how a news item is gathered at source and finally transmitted as an item on Central News.

Journalist Alan Jones is chatting to the landlord about a 'snow cat' vehicle which is used by the Civil Aviation Authority tracking beacon at nearby Clee Hill. Jones phones his story through to the news desk of Central News via a call-box.
The rest of the report shows how Central News then go about bringing footage of the 'snow cat' to viewers.
Further OTD can be seen on the following page.