Via Vision Entertainment have released the first 59 episodes of the notoriously raunchy series Chances on DVD and they've even included the unbroadcast feature-length pilot episode as a special bonus feature.
The action centres around the Taylor family, Aussie battlers who are struggling to make ends meet after splashing out a small fortune to pay for a wedding that will end in tragedy. Their lives will be transformed forever when they scoop three million dollars on the lottery meaning that they can fulfil their every desire. When word of the big win leaks out every bludger in town comes knocking, and dope freak Bill Anderson (Michael Caton) goes berserk with a chainsaw out of resentment over his best mate's good fortune.
Pictured top: Things are hotting up for young and old alike in Chances.
A bondage session with a married swinger goes badly wrong for advertising executive Alex Taylor (Jeremy Sims), and his aunt Sharon (Mercia Deane-Johns) gets to grips with a religious nutcase who has a weird kink for whips. Hairdresser Ben Taylor (Rhys Muldoon) finds that pretending to be a homosexual can have its advantages, teenager Nicki Taylor (Cathy Godbold) struggles with anorexia, and a porn star uses a two-way mirror to hoodwink Rebecca Taylor (Natalie McCurrie) into appearing in a blue movie.
Phillipa Taylor (Leverne McDonnell) starts sleeping with a bent copper, Connie Reynolds (Deborah Kennedy) is being diddled by a blackmailing bigamist and Chris Reynolds (Mark Kounnas) is the victim of a gay bashing incident in a public lavatory. Meanwhile Heather McGlashan (Yvonne Lawley) falls for the charms of a light-fingered geriatric, and there are disastrous repercussions when Sarah Taylor (Anne Grigg) decides to give her sexually confused nephew a helping hand by taking him into her bed.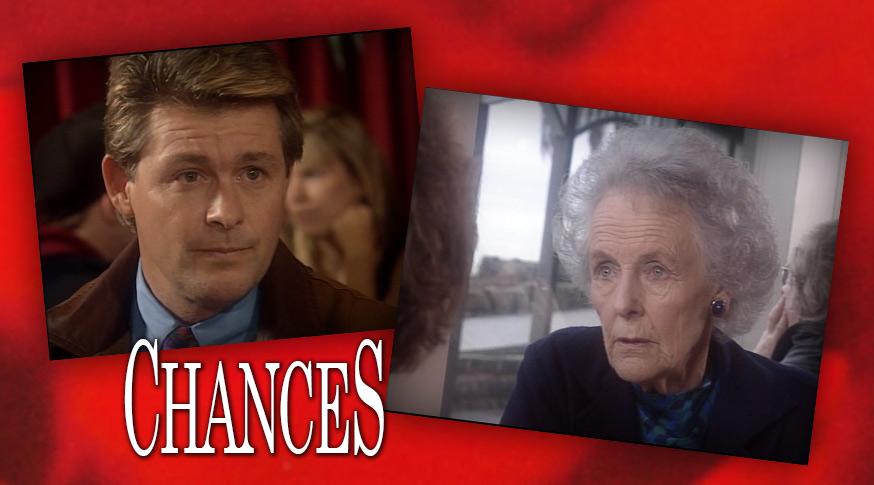 Eric Oldfield and Lynda Stoner played Dr Ben Fielding and Nurse Kim Barrington in The Young Doctors but in Chances they play medical staff with very different ways of working! In Chances we see Eric playing hospital groper Dr Gary Duncan and Lynda joins the action as private nurse Dee Dee Nelson who makes sexual advances towards her bedridden patient Jack Taylor (Tim Robertson).
Familiar faces appearing in these episodes include Ross Thompson, Vince Martin, and Rodney Bell from The Young Doctors; Alwyn Kurts from Homicide; Susan Hannaford from The Sullivans; George Mallaby from Cop Shop; Olivia Hamnett and Louise Siversen from Prisoner; and Paul Dawber from Sons & Daughters. Those starring in the unbroadcast pilot episode include Peter Phelps from Sons & Daughters, Mouche Phillips from Home & Away, Sandy Gore from Prisoner, and Marcus Graham from E Street.
You can order Chances: Collection One from the Via Vision website.
---
Grace Gibson Productions have released another batch of Australian radio serials on CD, USB and as digital downloads. In the latest volume of the political satire How Green Was My Cactus the team get to grips with the solar war, kruddy sluggos and bogan bacon.
Volume 2 of Short Story Library brings us another selection of top-quality dramas from a variety of writers who cover everything from romance to mystery and suspense. Meanwhile private investigator Dick Mallory continues his relentless war against those who live in the shadows of life in Hunt The Man Down Volume 10, and in Volume 10 of Night Beat reporter Randy Stone (Harp McGuire) is still prowling the streets in the wee small hours to land his next scoop. This time around he comes face to face with the black-eyed informer and has an appointment with death.
You can order all of these radio serials from the Grace Gibson website.
---
Photo's Copyright- Via Vision Entertainment/Beyond International. IRS Grace Gibson Productions.