Stephen Merchant's new comedy-thriller hits BBC One on Monday following fully Bristol shoot.
Set and filmed in Bristol, Stephen Merchant's new six-part comedy thriller The Outlaws begins Monday 25th October on BBC One after an extensive shoot that took place at The Bottle Yard Studios and on location across Bristol assisted by Bristol Film Office.
"After the very first national lockdown happened in March 2020, the co-operation and support from both the Bristol Film Office and The Bottle Yard Studios was integral to us being able to remount our show and come back both safely and stronger than ever. We were only 12 days into shooting Series 1 of The Outlaws when we had to shut down." – The Outlaws Producer Nickie Sault
Made by Big Talk Productions and Merchant's own company Four Eyes, the production team behind the new BBC One and Amazon Prime series based its headquarters at The Bottle Yard Studios where sets were built for key interiors. Sea Mills Community Centre served as the main city location and was decorated for the role by Bristolian graffiti artist 'Inkie'.
Bristol Film Office facilitated filming at a host of other city locations throughout the two series shoot which took place over 18 months, a period that was lengthened due to the pause in production brought on by the COVID-19 pandemic.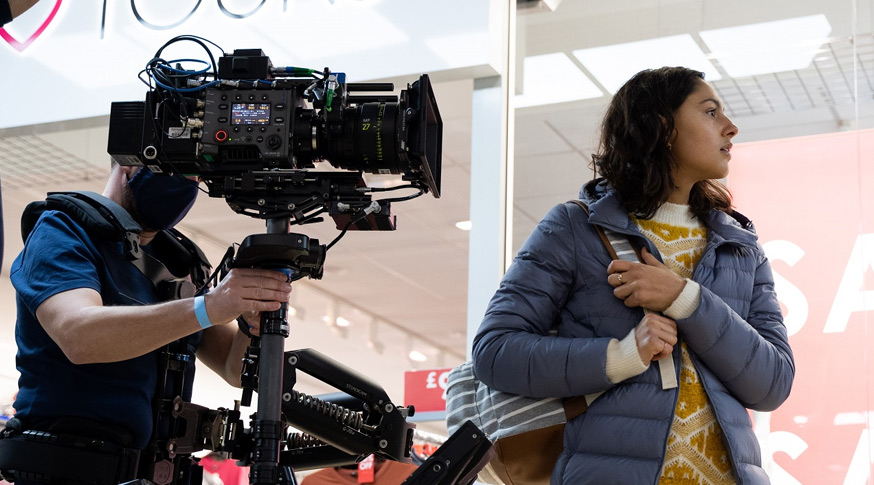 "When we started filming The Outlaws Series 1, we were firmly planning to shoot everything on location, we had no plans to build any sets at all, but during the lockdown Series 2 was commissioned, and so when we came back up we came back with not just 6 but 12 hours of TV, and due to Covid, for safety, we made the decision to build most of our locations at the studios instead of shooting live on location.

"The Bottle Yard Studios and Bristol Film Office could not have been more flexible and more supportive to our ever-changing circumstances. I would return to shoot in Bristol in a heartbeat." – The Outlaws Producer Nickie Sault
The Outlaws is a contemporary British drama about a disparate group of lawbreakers thrown together to complete a community service sentence. Seven strangers from different walks of life – people who would never normally interact – are forced to work together to renovate a derelict community centre. They resent the menial physical labour and they resent each other. But when one of their number gets dragged into a dangerous world of organised crime, they unite in ways none of them thought possible.
Academic high-flyer Rani has been hot-housed from a young age and has never really known a world outside her overprotective family. When her serial shoplifting finally catches up on her, she is given community service – much to the shame of her parents and to the detriment of her Oxford University scholarship. Removing graffiti at a dilapidated community centre under the watchful eye of jobsworth supervisor Diane, Rani finds herself interacting with very different people for the first time. Including people like Greg, the inept lawyer caught soliciting in a local car park, and Gabby, the socialite with 1.5 million followers who seems to have it all, but is prey to drink and drug problems.
"So often Bristol doubles for other settings on screen; it's rarer that the city has the chance to star as itself, in all its vibrancy and colour. Viewers that know and love Bristol are in for a treat; The Outlaws is as Bristolian as they come, with the city taking centre stage. The Outlaws has been a vitally important production for Bristol, generating jobs for crew and valuable knock-on income for other sectors. Around 200 people per day were working at The Bottle Yard Studios throughout Series 1 production, an estimated 70-75% of which were crew from Bristol and the surrounding area. Stephen and Big Talk Productions have done a fantastic job of championing Bristol and have treated the city with great respect."- Laura Aviles, Senior Bristol Film Manager
Then there is Christian, an unassuming young man with a complicated story of his own. Sole carer of his kid sister Esme, he's trying and failing to keep her away from a local gang. To protect her, he ends up doing the bidding of the gang's charismatic leader. This leads to him stealing a big bag of cash and hiding it in the very community centre where he and the other outlaws are working.
But Christian doesn't hide it well enough, and soon some of the other outlaws – including John (the right-wing blowhard businessman), Mryna (the radical activist stuck in the 1980s), and Frank (an unreformed con-artist and womaniser) – suddenly and accidentally take possession of a life-changing amount of money. Without realising it, Christian and the outlaws have placed themselves in the centre of a highly dangerous criminal turf war. And it will be Rani who ends up saving them.
Set in modern-day Bristol, the series celebrates the city's distinctive culture and people. Along the way, there'll be legal chicanery, budding romance, audacious acts of heroism and unexpected cases of mistaken identity. As the net closes around them, the outlaws will come to realise that they have more in common than that which sets them apart.
"A major series like this requires a great deal of liaison on the part of our Film Office team, who have assisted at every stage, arranging the recces that led to the disused Sea Mills Community Centre building becoming the main city location, and ensuring residents were updated about filming plans and special arrangements over many months of filming for two series shot back-to-back.

"The Film Office also advised the production team on charities and community groups that would welcome donations in return for the patience and cooperation of residents. We're pleased to confirm that donations have been made to four local charities." – Laura Aviles, Senior Bristol Film Manager